This counts as SMBX right? It's made in SMBX, but otherwise has nothing to do with it. I'm going to say it counts. This is a "minisode" based on the FNaF series.
It's not really meant to be a game as much as it's a template to make FNaF games in SMBX. You may be wondering, "Why is it encrypted if you are supposed to use it to make other things?" I want to make my own actual game with it first. I'll release the source of this when that releases (Along with the source of that game as well).
It has 5 main nights, the 6th night, and a custom night.
Don't expect much, it's not scary by any means and it really does not take itself seriously (What game with MS paint graphics and an enemy the looks like he should be a placeholder does).
This is made for version 1.4.5
Known bugs:
Game can only save in credits or the main menu, requiring the player to die in order to save (Don't know how to fix)
You can use the cameras during a power outage (I don't know how I didn't notice this one)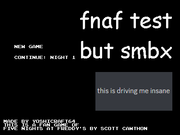 (Yes fnaf test but smbx is it's official name)
DOWNLOAD