I'm still gathering ideas and answers for FAQs about the project, so this post isn't finished yet, I'm also very busy right now to do so, but I'll try to cover some things =P.
Level Intro
All levels should have an intro now, and we're using Section 21 to do that. The current music being used is from Super Paper Mario, but any suggestions on other intro musics are welcome, they must fit the project though.
Here's a link to download the Level Template:
http://www.mediafire.com/download/on2or81eql5drrn/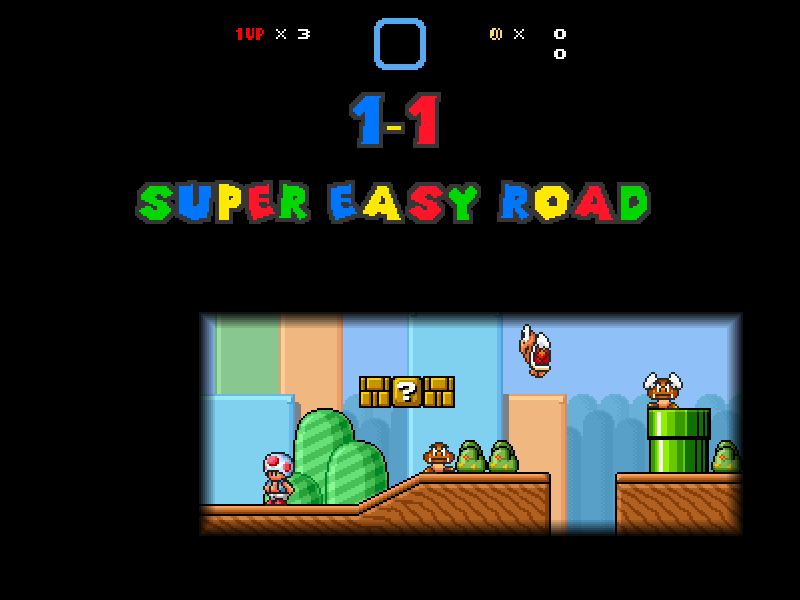 Keep in mind that the intro uses background2-31 as well as the following BGOs:
background-11
background-45
background-106
background-139
background-146
background-148
Avoid replacing these graphics to make adding the intro sequences more fluid to us.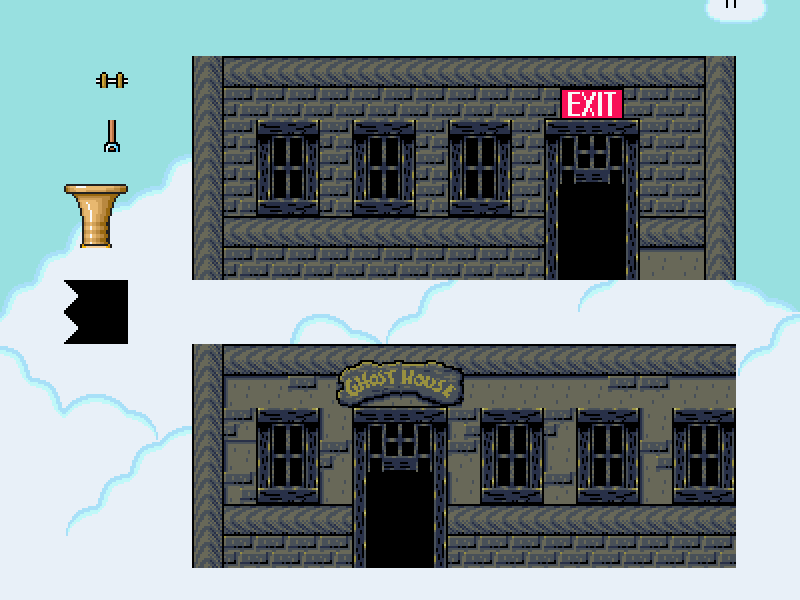 The Shadow Realm
The Shadow Realm is a copy of the normal sections of the level but with dimmer lighting and

increased difficulty

. It's accessed with the SMB2 Magic Potion and it ends with a SMW Star (the Light Realm part ends with the SMB3 Standard Exit). (We use the SMW Star so collecting it can unlock stuff in the light realm version of the level. Enable Off-Screen Exit in the section and block both side borders. Make the wall disappear upon collecting the SMW Star so the player can exit the level after.) Changing the background color will do in some cases but if the light dimension background isn't bright you will have to use a darker tileset in the shadow dimension.


We have custom graphics for the SMB2 Magic Potion door:


Unlocks Blocks/Dragon Coins


Representing on map

The Invasion Legacy
You might notice most of the level names in the plan are recurring from the previous Invasion titles. Please look at the original level in the Invasion 2 and try to loosely base your level's style after that. You can find The Invasion 2 file name table here:
http://www.smbxgame.com/forums/v ... 82&t=12960
You can pick the general style of the levels whose names aren't from the Invasion series yourself, just try to keep it true to the style of the rest of the levels in that world. However, since the mountain and lava worlds (8 - Parachute Plateau and 9 - Wasteland) are new, you can design in whatever style you find fitting.
We will not use custom music.
Collectibles
Each level should have five Dragon Coins. You may change the sprite to whatever you deem fit for your level.
Players
Bear in mind that every level should be completable as any character. This means:
No spinjumping should be required at any point (only Mario, Luigi and Toad can spinjump)
The Propeller Block/Flame Thrower shouldn't be required as Link can't utilize them.
Carrying things around like the Spring Board or the SMB2 Mushroom Blocks shouldn't be required as, again, Link lacks the ability to carry things.
Yoshi shouldn't be required. SMBX automatically replaces Yoshi with a Goomba Shoe near Toad or Peach but if you want to have, for example, a part where you must fly as Yoshi, you will have to keep in mind that Toad and Peach players will get stuck.
Link can't even mount a Shoe. If your level requires, say, Podoboo's Shoe, Link will get stuck.
You can use the mechanics above, but you must always make sure there's an alternate path for the characters that can't do that part. Or alternatively just block them from your level by telling them to leave and change characters on the map at the beginning of the level (have off-screen exit enabled or something). Or use character blocks.
Naming
Please add a 0 before the numbers in your level title. We do this for sorting purposes. Like this:
World 4 level 2 would be 04-02, not 4-2.
World 10 level 3 would be 10-03.
Basically, each side of the hyphen should have two digits. It's a minor thing but you get tired of renaming levels after a while.
Fortress/Dungeon/Castles Ending Cutscenes
We can make bosses defeating trigger cutscenes like in SMW, this is just a suggestion, no plans on it yet. But if most designers think this is cool, then we can achieve this. Also, these don't need to tell a super story about shadow realms and bla bla, we can just make it simple and thanks him for saving... I don't know an egg? lol; Ideas on this are welcome.
Save points
There's a way to create checkpoints through levels, so if your level is really big, create a pipe/door that will take the player to the map(not the level itself, just a temporary location to save), therefore he can save and go back to the level.
THAT IS, IF THE LEVEL IS REALLY REALLY BIG, pwnhammer levels? bowser castle? Dunno...
If you have any questions, please ask!